Is Landscape Lighting Expensive for your Home?
Your home's exterior is an integral part of your home's overall aesthetics. You've likely spent a significant amount of time and effort finding the perfect siding and door to match, painting the facade to tie everything together and creating a garden perfect for summer dining and relaxation.

But there's one more piece of the puzzle: landscape lighting. Your garden will be beautiful no matter what, but with the addition of landscape lighting, you'll bring a heightened ambiance and a completely new level of home-ownership pride.

But is landscape lighting expensive? If you've been eyeing your garden and wondering just how much this project will cost you, don't worry – we've got all the information you need.
The Cost of Landscape Lighting
The cost of landscape lighting can vary from project to project depending on a multitude of factors, including the complexity and size of the project, the materials used, the number of fixtures included, and the labor costs for installation. Depending on these variables, landscape lighting may be considered pricey or worth the investment.

The upfront cost of landscape lighting can deter some homeowners due to its price tag. However, after weighing the advantages that it provides not only property-wise but in terms of safety as well as energy savings, many homeowners find that they are able to quickly recoup their investments. Landscape lighting typically uses less energy than other types of lighting, including halogen bulbs. Additionally, it requires less maintenance over time than most alternatives and has a low total cost because it can last up to five times longer than traditional fixtures.

On the other hand, professional landscape lighting services can be more expensive due to the extensive planning, labor and equipment involved in constructing complete illumination solutions. Expert advice may be advantageous as they typically ensure optimal placement and functioning of fixtures, but with advances in technology kits are now available for quicker DIY installation.

Ultimately, deciding whether landscape lighting is expensive or an investment comes down to individual preferences and needs. No matter what you decide, there is likely an option available for all budgets. For those wanting to explore their options further before committing to a choice, research into different styles and fixtures that fit within your budget can prove quite beneficial. And now that we've explored the cost of landscape lighting, let's look into some other factors that could affect this cost as well.
Factors that Affect the Cost of Installing Landscape Lighting
When it comes to the cost of installing landscape lighting, several factors come into play. The type of bulbs, level of complexity and expertise required, as well as materials used can all affect the overall cost. LED lights are typically more expensive than an incandescent bulb, but they cost less to operate in the long run. Bulbs with higher wattage require larger fixtures and may also require additional electrical wiring or power sources.

The complexity and expertise required for the installation can also be a major cost factor. It is often necessary to hire a professional electrician to handle large-scale outdoor lighting projects that include multiple fixtures, needs extra wiring, or have underground components. This will result in a large portion of labor costs for most projects. On the other hand, some installations may only require minor setup and labor; this usually requires only a few hours and not too much money upfront from the customer's pocket.

Safety considerations are another important factor when evaluating cost. Electrical codes vary by region and must be adhered to properly in order to avoid any potential legal issues or danger from fire or electric shock. Each local jurisdiction sets its own regulations on landscape lighting installation, so it's important to make sure these codes are followed for any landscaping project in order to prevent costly complications later down the road.

In short, the cost of installing landscape lighting is not always easy to predict since there are so many different factors that come into play depending on each individual situation and location. But understanding what affects the overall cost can help homeowners make informative decisions that fit their needs while staying within their budget constraints. Now let's look closer at some of the advantages that come with investing in landscape lighting.
Advantages of Investing in Landscape Lighting
Investing in landscape lighting is a great way to enhance the beauty and value of your home. This type of lighting serves multiple purposes, providing both aesthetic and practical benefits. On one hand, it adds a subtle layer of sophistication while deepening the color of foliage or other interesting landscaping features. On the other, it can provide a sense of security by illuminating entryways and driveways as well as dark areas around your home that could be potential hiding spaces for would-be intruders. It can also produce better visibility for drivers and pedestrians while making nighttime activities more enjoyable.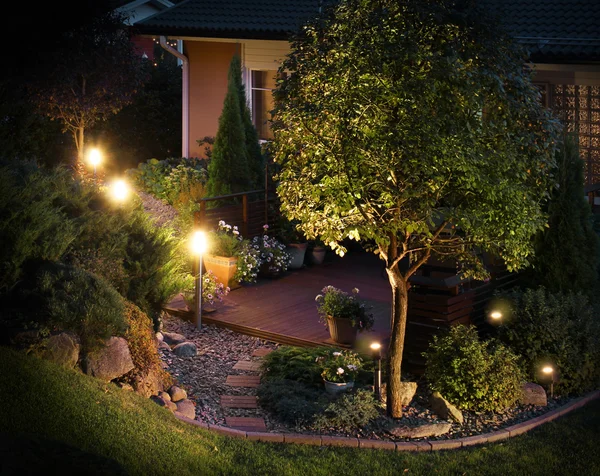 These advantages come at a cost, but that cost can often be offset by the long-term savings you'll gain in energy efficiency, thanks to LED lights. LED bulbs are longer lasting than traditional options and use substantially less energy.
This results in lower monthly bills that immediately reduce their upfront costs over time. In addition, their strong construction makes them much more resistant to wear and tear, resulting in fewer repair and replacement issues throughout the year.

For those still on the fence about investing in landscape lighting, consider this: not only will you gain these practical benefits and improve your home's overall look and value, but you may also qualify for rebates from local electric utilities if you choose to install energy-efficient equipment like LEDs.

As you can see, there are many advantages to investing in landscape lighting that go beyond aesthetics alone – however its important to keep security in mind when doing so.
Fortunately, modern outdoor lighting systems have advanced in recent years with increased functionality to help maximize safety such as motion sensor technology which activates lights when triggered by movement or sound nearby. As you move forward with improving your home's outlook, exploring the possibilities of enhancing its security features with landscape lighting should be a top priority.
Enhancing Your Home's Security Features with Landscape Lighting
When it comes to the advantages of investing in landscape lighting, ensuring your home's security is an additional benefit that should not be overlooked. Adding exterior lights to your property can make it a less desirable target for intruders as it is more difficult to go unnoticed when being illuminated. Furthermore, landscape lighting can offer other forms of security such as better visibility at night which can contribute to preventing accidents around steps or pathways.

Of course, there are two sides to this argument. Some may argue that because well-lit places help deter crime and in turn require police presence, a certain amount of lighting is sufficient enough. Conversely, those who desire peace of mind may consider investing in more powerful lighting systems that provide maximum coverage and brightness or even motion-activated LED's with flashing alarms combined with cameras and other advanced tech gadgets. Whichever route you choose, it's important to do your research as landscape lights vary tremendously in terms of features and functions.

At the end of the day, the decision rests with the homeowner. Regardless of what direction is taken, it's clear that landscape lighting provides unique home automation solutions for enhancing both your outdoor aesthetics and security features. While the initial investment might prove costly, the long term safety benefits are well worth it. With good quality materials and low-cost alternatives available on the market today, homeowners have many options to explore when considering their security needs.

In our next section, we'll delve further into how homeowners can reasonably optimize their budget while still getting strong value out of their investments without compromising on desired function or attractive design.
Essential Points to Remember
Landscape lighting provides a number of benefits from increasing home security to helping prevent accidents. They also accentuate the aesthetics of a property. It is important for homeowners to consider their budget and security needs before purchasing landscape lighting, as there are varying types available with different features, functions, and costs. Long-term safety benefits can be gained from the investment in the right type of landscape lighting, with good quality materials and low-cost alternatives available on the market today.
Good Quality Materials vs Low-Cost Alternatives
When considering landscape lighting, it is important to decide on good quality materials or low-cost alternatives as these factors affect both investment and the overall outcome. Quality materials are more expensive, but they're built to last and will last much longer than cheaper options.
From a cost perspective, however, buying low-cost lighting materials can be an attractive option to meet your budget constraints. Low-cost alternatives may come with fewer features and fewer bells and whistles, but they tend to still provide acceptable results which are especially true in homeowner's yards. Furthermore, these products tend to be more easily replaceable if needed as they require less of an investment.

Ultimately, the decision between good-quality materials or low-cost alternatives is a personal preference. The best way to decide is to research the costs associated with each type of material and factor in any long-term maintenance that may be required since cheap lights may require more frequent repairs or replacements due to their lower-quality components. Keep in mind the return on investment for landscape lighting mainly comes from the aesthetic improvements yet there are many other advantages such as increased safety and improved security against intruders.

Work with Big Easy Lighting Today
So, if you're considering landscape lighting but are worried about the cost, contact Big Easy Lighting today. Let us help you design and install a beautiful and affordable lighting system that meets your needs and budget.
Remember, a well-lit outdoor space not only adds beauty and functionality but also increases your property's value and enhances your overall living experience. Don't let cost hold you back from achieving the outdoor lighting system of your dreams. Contact us today to get started!